Fan art - I will fear no Evil (Castiel)


The full size version is available HERE : img121.imageshack.us/img121/5503/castielsmokefinallj.jpg

What's the concept ?

This illustration was made for the
spn_tarot community a.k.a The Winchester Arcana, a project launched about three months ago to create a tarot game based on the characters of Supernatural. I was assigned the Knight of Wands with Castiel as a prompt. However, this drawing won't be used as the Knight of Wands because I am a functioning moron I didn't respect a very simple rule set by the
spn_tarot community. If you draw a card for the Wands suit, a wand must be visible in the picture (pure logic) but in my fan art, there was none. What Cas' is holding in his hand is an Angel Blade ( = a sword). What corresponds to Wands in the Supernatural Tarot is guns and let's face the truth, there's no gun in that pic. However, as the mods really wanted to use this illustration, it will be included in the set as an alternated card for The Strength or for one of the cards of the Swords suits. My mistake !!


Don't hesitate to check out the community to know more about the Tarot. If you are a fan artist yourself, I think you can still apply for alternate versions of the cards. The deadline is August 1st. I guess that everybody must be still very busy right now because we are in the middle of the Big Bang mayhem but if you have the time, click on the banner below...




It seems a little bit too big for a card, no ?

It's because this is the wallpaper version. I came up with two different versions this time. I was fed up to always work with the same canvas size (1425 x 975 px) so I created a big illustration I could crop and turn into a card afterward. I just added some modifications. There's no smoke, the moon is not at the same place and there's blood dripping from Castiel's blade. Here's what the final card will look like without the border and the scroll.




The full size version is available here : http://img815.imageshack.us/img815/6872/castielroibatons.jpg

Where's does the title come from ?

It's a reference to the sentence engraved on the Colt, Non Timebo Mala ( I will fear no Evil). It originally comes from the Bible (Psalms 23)

Was it the first version ?

No. I sent a first version to the mods that was just awful. Once again, I wanted to experiment something with Painter and the final result was very...interesting. I am glad it was refused by the mods because a wand ( = a gun, now I know...) wasn't visible on the image. Thanks God...Poor Cas, he seems to be on crack.


The full size version is available here : http://img823.imageshack.us/img823/8948/casswandfirsttry.jpg

Is there a sketch/B&W version available ?

Yes, there is an outtake where Castiel is surrounded by flames and not by smoke. You can find it in THIS POST . Here's a little preview if you are interested.




LET'S TALK ABOUT TECHNIQUE

What software did you use ?

The usual drill, Photoshop CS but mostly Painter Essential 3
Tablet : Wacom Graphire 4

How long did it take you ?

I went incredibly "fast" for that one (well, fast for me). Around 15 hours. The fact that Castiel doesn't wear a flannel with a plaid pattern helped a lot. No stupid details to focus on...


What brushes did you use ?

For once not a lot of predefined brushes! I mostly worked with the basic brushes set (Photoshop) and the oil and digital watercolors from Painter. Check out the chart below for more informations.




Paint over ? Y/N ?

I painted over a part of the bridge because, let's face the truth, I don't like drawing set and I thought that adding a piece from a photography would give a good effect instead of using a predefined brush to draw the city lights. I used the clone stamp set to soft light.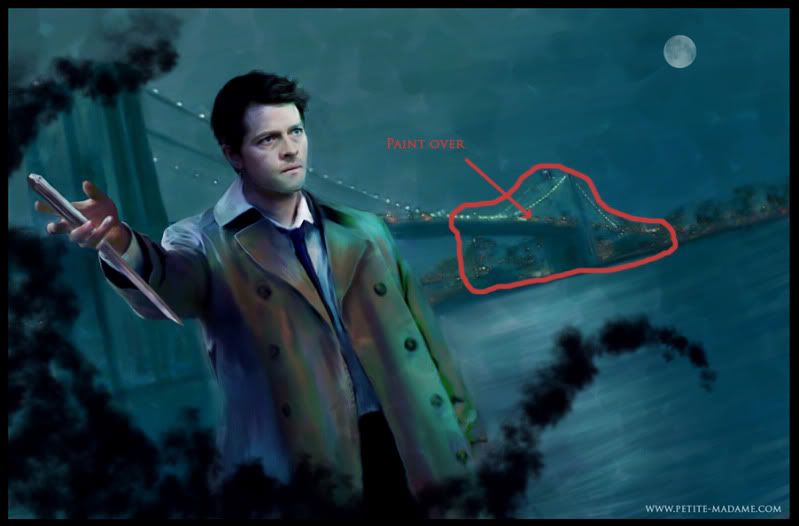 Easiest thing to draw ?

The black smoke from Lost. It took me only one layer and just 5mn. Predefined brushes are a gift from God Chuck when it comes to create that kind of effect.

Most difficult ?

Misha's eyes. He has very particular eyes. In my first try, I added too many shadows under the eyes : the poor guy looked like a panda that hasn't slept for months.


Next fan arts ?

Not before mid-July folks. I won't be around my LJ a lot until then. I will maybe open a "wallpaper section" and post 1 or 2 wallpaper manips (I would like to give it a try) but nothing new will come up the "Petite-Madame's fan art factory" before July. The reason is simple. I am currently working on illustration arts for a fic I really enjoyed, Next Man Up by
rhythmsextion , and things went completely out of hand.
I just wanted to draw one or two fan arts and I ended up with...6 (maybe 7...I even drew a fan art of Chad Michael Murray, just for the fun of it!) Be ready for a big football post (God, Jensen and Jared as football players are freaking HOT. Ok, they are hot all the time but still...
) A little preview just for the fun. Enjoy!




That's all folks
See you soon ^^

More questions ?
Don't hesitate to ask them here on LJ or on my FormSpring.me : www.formspring.me/PetiteMadame