Fan Art - Eat It Twilight !! (Dean Winchester)



Click here for the FULL SIZE VERSION : img97.imageshack.us/img97/880/eatittwilight.jpg

GENERAL QUESTIONS

What's the concept ?

A day at the office for Dean Winchester. I had the inspiration for this fan art after watching the Episode 3 of Season 5, the one where Dean kills a vampire and tells him just before cutting his throat "Eat it Twilight !!!" . In the show, Dean uses a big knife but I think I found a funnier way to kill the vampire. At the beginning, it was just a barbwire then I came up with the idea of the audio tape by re-watching on YouTube a scene from the Pilot, the one with the now famous line "Driver picks the music, shotgun shuts his cakehole". The audio tape was just the idea I needed.


Was it the first version ?

I must admit I thought about Dean strangling Robert Pattinson mainly because of the reference to Twilight in the line "Eat it twilight" but no, that would have been a little bit over the top and that poor Rob doesn't deserve that : he's already hunted by Twihards all day long, no need to ask Dean Winchester to interfere...


Why ACDC's Hell's Bells ?

1) It fits with the mythology of Supernatural, Dean being a big AC/DC fan.
2) The title is pretty relevant. Hell's Bells when you're killing a demon or a vampire or anything in the same category is a pretty good soundtrack.
3) I am a fan of ACDC, it's as simple as that ! However, I must admit it was difficult to choose between other titles I had in mind like for instance Guns n' Roses' "Right Next Door to Hell" or Metallica's "Saint Anger".

This must be the most resistant audio tape I have ever seen in my life...

Yeah, sorry. There's only one like that in the world and it's Dean's...It was custom made


OMG Petite-Madame, what the hell is that..that...thing ?

A vampire. Sort of. I know, in Spn, Vampires are "normal folks" who look like (sexy) human beings except that they have an impressive set of fangs and, thanks God, they don't glow like a freaking discoball when the sun shines. However, I thought that those vampires were not scary enough. I didn't want the viewer to feel sorry for the creature with the sentence "Oh, poor vampire, he looked so hot!!" popping up to their mind. I wanted that monster to be disgusting, with a very organic rending as if we could see the blood pumping through its translucent skin.

Dean's pretty bad ass on that one...

That's Dean, even if I drew two or three fan arts where the boy is moody, I think that this kind of illustrations where Jensen Ackles looks really bad ass is what I prefer. Dean looks better with blood on his face and a monster less than 2 feet away from him. That's one aspect of the character I enjoy the most.


Did you use a particular reference pix for this illustration ?

Yep! I used the promo photo below :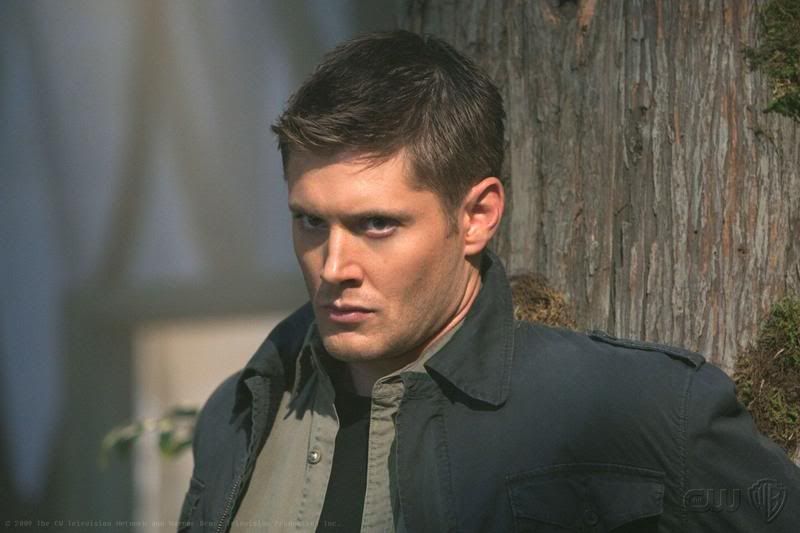 I am a Sam!Girl, when will I finally see a Sam fan art from you, you silly and obsessive Dean!Girl ?

Soon, I hope. I've just finished a card for the Supernatural Tarot featuring Sam, as you can see below :




I hope to post the full size version asap. However to be really frank, this is not the definitive version, there is a big part missing on the right side where Sam kills demons thanks to his psychic powers. And it's not finished. To cut a long story short, still a lot of work to do...

If you can't wait, you can still check out those two drawings on LJ and on my Website :
- Nobody's Fault but Mine : petite-madame.livejournal.com/1213.html
- Lucifer's Vessel : www.petite-madame.com/gallery/fanart/supernatural-lucifer-s-vessel.html

And Cas' ?

I only drew one fan art so far but that's not my best one, sorry (I hate it, don't ask me why) : http://petite-madame.deviantart.com/gallery/#/d2gl2hu
However, I've just finished a big Castiel piece that I hope to post soon. It's for the Supernatural Tarot again but there is a "wallpaper version" too if you are a Cas!Girl.

More Supernatural fan arts from you in the future ?

Yes Ladies! However, I am taking a break from "pure Supernatural" fan arts and I will focus during the Hellatus on drawing illustration arts for some fan fictions I enjoyed in the last 3-4 years. I already contacted some authors who kindly agreed. Expect a big "football post" in two/three weeks...


LET'S (NOT) TALK ABOUT TECHNIQUE

Hm...No tutorial this time ?

I don't see what technical point I can explain here. As usual, it's a mix between Painter Essential 3 and Photoshop CS. I worked mostly with basic brushes with straight edges and the Smudge tool.
If you want me to explain something in particular in therms of effects, textures, layers, just ASK and I will edit this post. No problem !!



More questions ?
Don't hesitate ! Just ask them here on LJ or on my Formspring.me : www.formspring.me/PetiteMadame