Fan Art : I will never see my 35th birthday (Dean Winchester)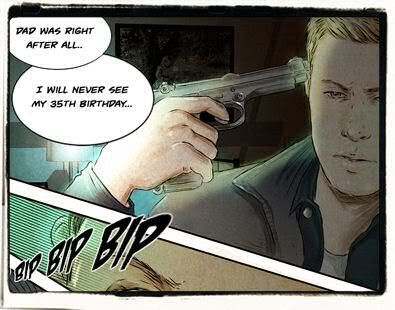 Full size version available here : www.petite-madame.com/gallery/fanart/supernatural-i-will-never-see-my-35th-birthday.html
(Once on the site, click on the image to full view, the pic is pretty big)


What's the concept ?

I filled the following prompt for the
sharp_teeth community requested by
redrum669 :

Dean left without a word, just to see if someone cared. He hoped someone would give him a reason not to use the gun and the bullet he brought but slowly but surely the battery on his phone is dying and he still hasn't gotten a single call from anybody.

I must be a little sadistic but I have a thing for hurt!Dean. I love to see this boy suffer, I don't even know why because he's just my favorite character on the show!


Still playing with Manga Studio Petite-Madame ?

OooOOOOh yes...I bought the software last summer but I'm just starting to enjoy it now (The book Manga Studio for Dummies helped a lot...
). It's a lot of fun to draw "manga style" again. However, I colorized the picture with Photoshop CS. Here is the picture after the inking with Manga Studio and before the Photoshop stage.




Did you draw the sets ?

No, of course, no. They are all digital screentones I found in this amazing Deviant Art Gallery.

What the hell is happening to you today ? Didn't you already post a new fan art this morning ?

I am in a VERY bad mood.
Someone my boss really pissed me off this morning and when I am angry, guess what, I draw!! When I saw this prompt at the
sharp_teeth comm, I just couldn't resist. I ALMOST drew a second page (the conversation between Sam & Dean) but I guess it wouldn't have been reasonable : I REALLY have to take care of my
spn_reversebang now and stop fooling around. Not to mention that I still have one prompt to fill for
sharp_teeth but this one won't be done with Manga Studio, it will be a pencil sketch.

Did you have a beta for this art ?

For once, I must admit that I didn't so if you see a big grammar mistake in the balloons, just let me know (I won't correct it today because I am busy but tomorrow) Thank you for you help.


How long did it take you ?

Quite fast! Working with Manga Studio goes faster than working with Photoshop! Around 9 hours, I think.

Will you fill other prompts for the
sharp_teeth community ?

Absolutely. I am working on a new one submitted by
twoskeletons , a crossover between Narnia and Supernatural. As I love Spn and as I am secretly deeply in love with Tilda Swinton, I just couldn't resist...Here's the prompt :

Post-S3. In the midst of his desperate quest to get his brother back, Sam stumbles into Narnia and meets Jadis, who has a history of liking ambitious and resentful young men. She tells Sam she can help him.

I think it will be ready on Friday if I have the time but this one is far more complicated technically speaking than the art you can see in this post
And now, the
spn_reversebang ?

Yes, this time, I will be serious, I promise!!!


Voilà!
That's it for today!
See you soon for the third prompt for the
sharp_teeth comm! ^^