Fan Art : Do you think I'm pretty, Dean...? (Dean Winchester)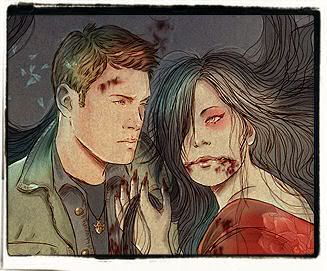 Full size version available here : www.petite-madame.com/gallery/fanart/do-you-think-i-am-pretty-dean.html
(Once on the site, click on the image to full view, the pic is pretty big)


What's the concept ?

I filled the following prompt for the
sharp_teeth community requested by
xxamlaxx :

"Am I pretty?" The slit-mouth woman asked.
Dean knew better than to answer so he watched the blood drip from her mutilated mouth.

Seriously ? Dean + Japanese ghost ? It's a thing I've wanted to draw for so ages!! In addition, the lady asked for a kuchisake onna, so I really couldn't resist! You know me, I am never against some gore action!


It's different from what you usually draw, no ?

Absolutely. Certainly because I didn't use the same softwares as usual (Photoshop CS and Painter Essential 3). This time, I did the inking with Manga Studio Debut first, then the coloring with Photoshop CS. No Painter, no complex CG style painting, no "hyper realistic" stuff. To give you an idea, you can see below what the drawing looked like before the Photoshop stage :





An inspiration for the drawing style/colors ?

- Mangas, of course... I live in Japan so I guess that I am a little bit influenced by all the things I see all around me everyday.

- The works of artist Yamamoto Takato. His way of inking and his "ero guro" (erotic gore) style are absolutely amazing. The details, particularly the blood and human organs, are mind-blowing. Most of his works are NSFW so be careful if you google his name with Mr. Boss or your very conservative Grand-Mother right behind you.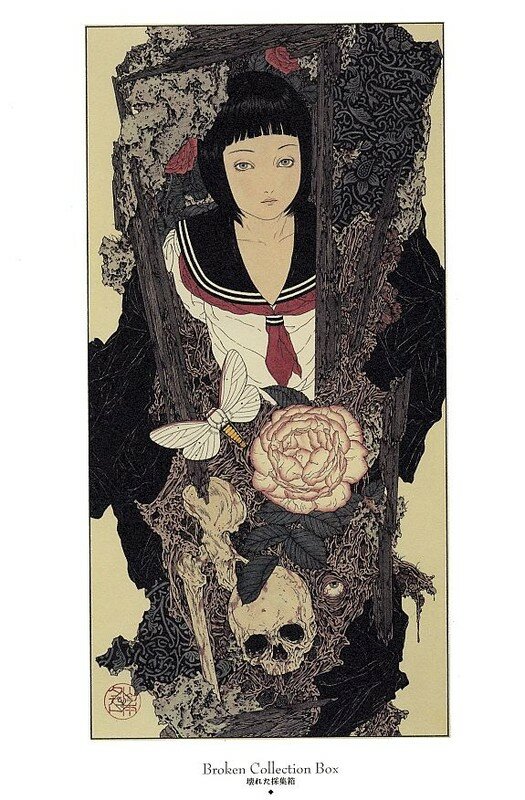 How long did it take you ?

Quiet fast! Working with Manga Studio goes faster than working with Photoshop! Around 9 hours, I think.

Will you fill other prompts for the
sharp_teeth community ?

Absolutely. I am working on a new one submitted by
twoskeletons , a crossover between Narnia and Supernatural. As I love Spn and as I am secretly deeply in love with Tilda Swinton, I just couldn't resist...Here's the prompt :

Post-S3. In the midst of his desperate quest to get his brother back, Sam stumbles into Narnia and meets Jadis, who has a history of liking ambitious and resentful young men. She tells Sam she can help him.

I think it will be ready on Friday if I have the time but this one is far more complicated technically speaking than the art you can see in this post
Shouldn't you be working on your
spn_reversebang ?

Some of my authors and I share a common point : we should be working on our Reverse BB prompt but we got distracted the inspiration for something else and we just go for it! Well, I am a mean girl because my authors are working really hard and have already wrote a good part of their fics so I'd better not shut up and just...work on my RBB, I guess...


Voilà!
That's it for today!
See you soon for the second prompt for the
sharp_teeth comm! ^^